Genus Mystrium Roger, 1862a: 245
In Tribe AMBLYOPONINI
Diagnostic Features - Elongated mandibles, blunt at the apex, but longer than the head, with a double tooth-row on the inner margin. Sculpture coarse and with spatulate hairs on the head. Roger's (1862a) genus definition, of the queen, type species M. mysticum from Madagascar, is at

.
See http://www.antweb.org/description.do?name=mystrium&rank=genus&project=worldants for more genus examples.

---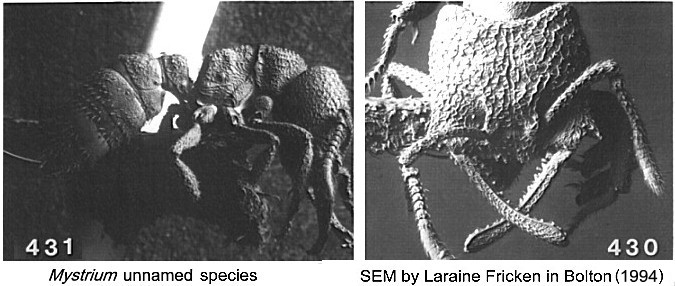 Hölldobler & Wilson (1990, page 569) note that members of the genus are among those ants which show a capacity to snap their jaws, probably as a defensive mechanism. The SEM illustration is an unnamed species shown in Bolton (1994).
Genus revised by Menozzi (1929d) but includes only one species from mainland Africa - Mystrium silvestrii Santschi.