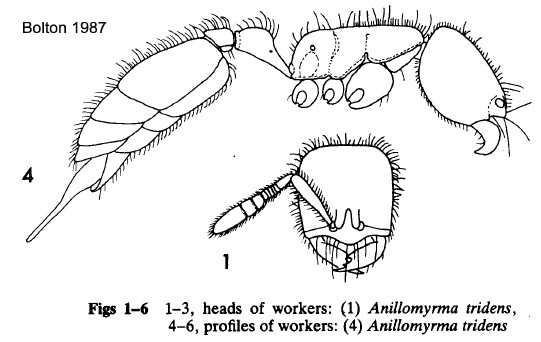 Genus Anillomyrma (Emery 1913: 261)
In Tribe SOLENOPSIDINI.
First described as a subgenus of Monomorium. Raised to species by Ettershank, 1966: 97; genus revised by Boton (1987: 274).
Diagnostic Features: Eyes absent; antennae 10-segmented; postpetiole articulated high on the first gastral tergite. Minute (TL < 2.0 mm) species of monomorphic, subterranean ants;
Type species Anillomyrma decamera type location Sri Lanka (Monomorium decamerum, Emery, 1901e: 117). One other species, Anillomyrma tridens Bolton (1987: 274) from Borneo was listed by Bolton.
No named African species but a form was reported by Robertson (1999: 324) as found underground at Mkomazi, Tanzania.