Genus Psalidomyrmex André (1890: 314)
In Tribe PONERINI. Plectroctena group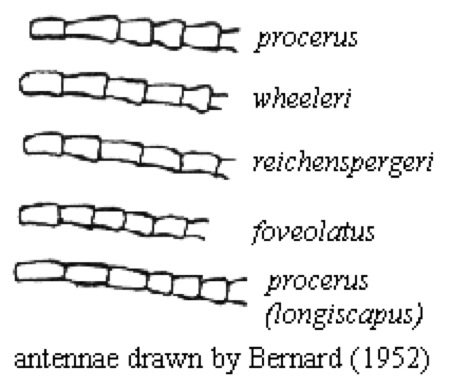 Diagnostic Features - Medium to large ants. Basic sculpture of large shallow foveolae or pits, from each of which a single seta arises, interspaces between the foveolae usually finely striate. Mandibles edentate to weakly toothed, varying in shape from subtriangular to falcate, always with the apex prolonged into a long, acute point. Basal mandibular groove distinct. Promesonotal suture distinct and mobile. Middle and hind tibiae with a single pectinate spur, claws simple. André's (1890) genus description is at

.
Genus revised by Bolton (1975b), the genus members were described as rare and restricted to the forest zones (Bolton, 1973a).
Bernard (1952), whose findings included foveolatus from savanna, also described a queen of what he took to be a new species - "clavicornis" - but this was reassigned to the status of junior synonym of Pachycondyla talpa (by W.L. Brown, unpublished?, in Bolton, 1975b). Bolton & Brown (2002) have added a few extra findings.
Antennal variation as illustrated by Bernard (1952).